The Legend of the Flowers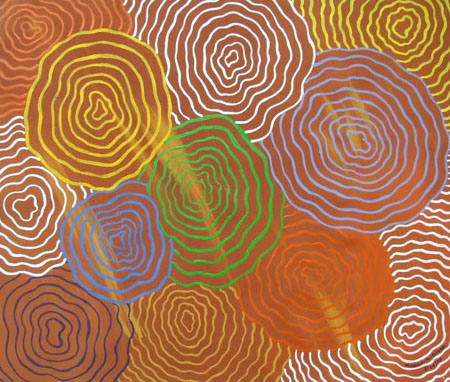 After Baiame left the earth and gone to live his his far-away land of rest on top of the Sacred Mountain all the flowers that grew on the plains and the stony ridges and the trees withered and died and none grew again in their place. The earth looked bare and desolate with no flowers to brighten it. As the flowers were gone, so were the bees and consequently the honey.
The People asked the Wirinuns [the Clever Ones] to go and ask Baiame if he could cover the earth again with the flowers so it would be made beautiful again. The Wirinuns journeyed until they came to the foot of the Sacred Mountain and began climbing and after 4 days they reached the summit and were greeted by the Spirit Messenger of Baiame. They told the Spirit Messenger they came to ask Baiame for some flowers to make the earth beautiful again which will bring back the bees and give honey to their People. The Spirit Messenger lifted the Wirinuns into the Sky Camp where fadeless flowers never ceased to bloom and told the Wirinuns they could gather as many as they could hold in their hands as they were good People and had obeyed Baiame's Lores of the Land. The Sky Camp of Baiame was a land of beauty; flowers blooming everywhere in such splendour as they had never seen before they looked like rows of rainbows laid on the grass. The Wirinuns cried tears of joy as they had never seen such beauty.
The Spirit Messenger returned the Wirinuns to their People laden with armfuls of the blossoms from the Sky Camp and told them the earth shall never again be bare of such blossoms and fragrance. The Wirinuns scattered the flowers far and wide. Some fell on the tree tops, some on the plains, and ridges and where they fell they have grown ever since. It is the work of the bees of Baiame from the blossoms of the Sky Camp to make Yarraga [the spring wind] blow the rain down the Sacred Mountain that the trees, shrubs and flowers may blossom and the earth bees make honey.
Michael J Connolly
Munda-gutta Kulliwari
Dreamtime Kullilla-Art