Michael Connolly is an Aboriginal from Charleville, south west Queensland and a descendant of the Kullilla Tribe from the Thargomindah and Eulo region on his Father's side and from the Muruwari People from Goodooga and Brewarrina region of north-west New South Wales on his Mother's side who can trace their traditional trade and diplomatic links with Central Desert as well as South Australian and Northern New South Wales' Aboriginal Communities. With this rich Indigenous background and a unique way of interpreting his cultural heritage Michael is able to represent a unique perspective in the visual and performing arts that informs his significant work in cross cultural contexts.
Michael is an enthusiastic and highly motivated professional Aboriginal artist and craftsman with excellent people skills and has worked extensively with Aboriginal and Torres Strait Islander people, business associates and stakeholders, and the general public throughout Australia.
Michael's career has progressed from an individual Aboriginal artist and performer in Brisbane, Queensland, to focusing on personal and business development for Dreamtime Kullilla-Art to being now recognised as a renowned Aboriginal artist and craftsman, performer and facilitator. Michael is dedicated to improving his business whilst also promoting and raising awareness of Aboriginal culture and its people out of his respect for the deep richness of diversity of Aboriginal and Torres Strait Islander histories in Australia.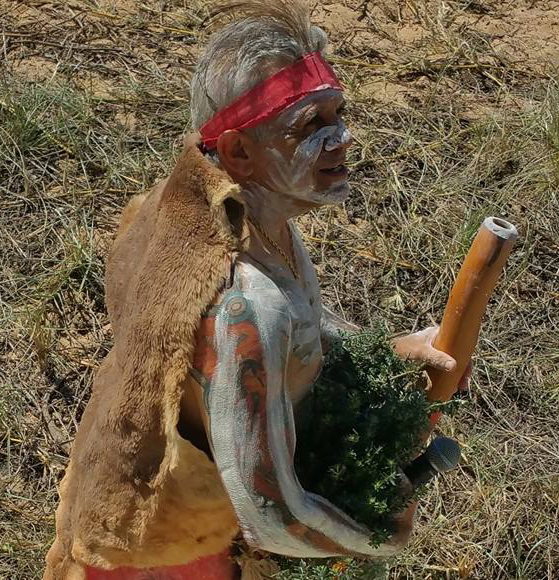 His international experience as an Indigenous Australian Ambassador in a range of countries including Brunei, India, Malta, Singapore, Switzerland, China and Hong Kong, demonstrate his ability to promote and deliver Aboriginal culture and to work independently and responsibly in many cross-cultural environments. Playing didgeridoo and performing in other countries has been one of the highlights of Michael's career to date. Michael shares his time between art, cross-cultural training, consultancy and mentoring and has been involved in assisting remote Aboriginal communities in the Northern Territory to become more self sufficient in such areas as tourism, land management and market gardening.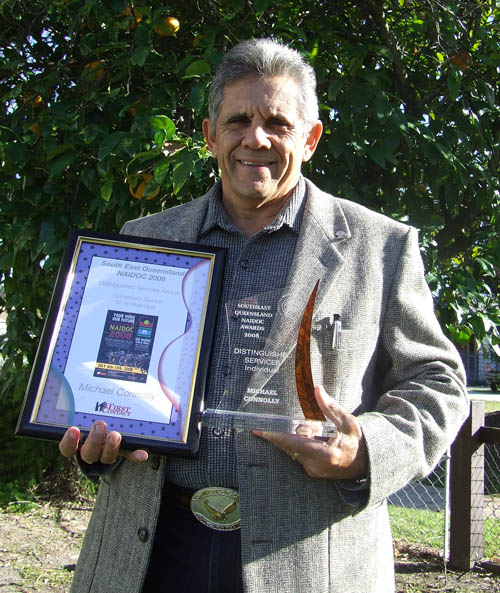 Michael was a former member of the Advisory Panel of the National Indigenous Men's Forum which consulted with State and Federal Leaders about issues relating to Aboriginal Culture and Communities. As a Traditional Owner he was the former Cultural Heritage Director of the Kullilli Bulloo River Aboriginal Corporation in south west Queensland - recently resigned from.
In 2008 Michael was the recipient of the Distinguished Services Award – Community Service for an Individual during the South East Queensland NAIDOC Celebrations and he has received a Special Acknowledgment from the Queensland Department of Immigration, Multicultural and Indigenous Affairs for his initiative of the Aboriginal Australia Numberplates.
As a Graduate of the Australian Indigenous Leadership Centre and the National Indigenous Leadership Program (FaCSIA) Michael has added to his skill base and is recognised as an inspiring, entertaining and knowledgeable Facilitator and Trainer. He was immensely proud to be nominated for the Moreton Bay Regional Council Citizen of the Year on Australia Day 2014.
His involvement with all aspects of Indigenous Culture and capacity building include his activities for QCAN's Numbarlie Marlu, Aboriginal Men's Support Team, the South East Queensland Indigenous Chamber of Commerce, Redcliffe City Chamber of Commerce and the National Congress of Australia's First Peoples.
As an accomplished didgeridoo player and performer Michael has been invited to perform for the High Commissioner in Brunei, Wo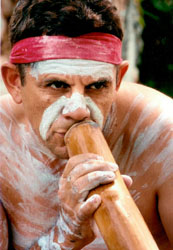 ​rldwide Aussie Convention in Brisbane for the Northern Territory Tourist Commission and for the President of Ireland at the Brisba​ne Convention Centre. He has also recorded a CD with the Queensland Irish Pipe Band which was a very personal and important acknowledgment of his Irish and Aboriginal heritage. He has been invited to perform at many functions and events including playing with the Maltese National Orchestra in Malta for their 40th anniversary of Independence Day Concert, the Mumbai [Bombay] International Film Festival as part of AusArts India and the launch of the Australia International Cultural Council in Kolkata [Calcutta]. He was invited by the Discovery Channel in Singapore to play didgeridoo for the launch of the new Discovery Atlas Channel which was showcasing Australia and, with his two children, delivered a major set of Cultural Performances at the St Gallen Tourist Expo, Switzerland where Australia was the featured international destination.
Michael has been engaged as a Cultural Consultant, Trainer and Mentor with many Queensland and National organisations including the National U/19 Indigenous Youth Soccer Team, the Australian Indigenous Boxing Team, the Queensland I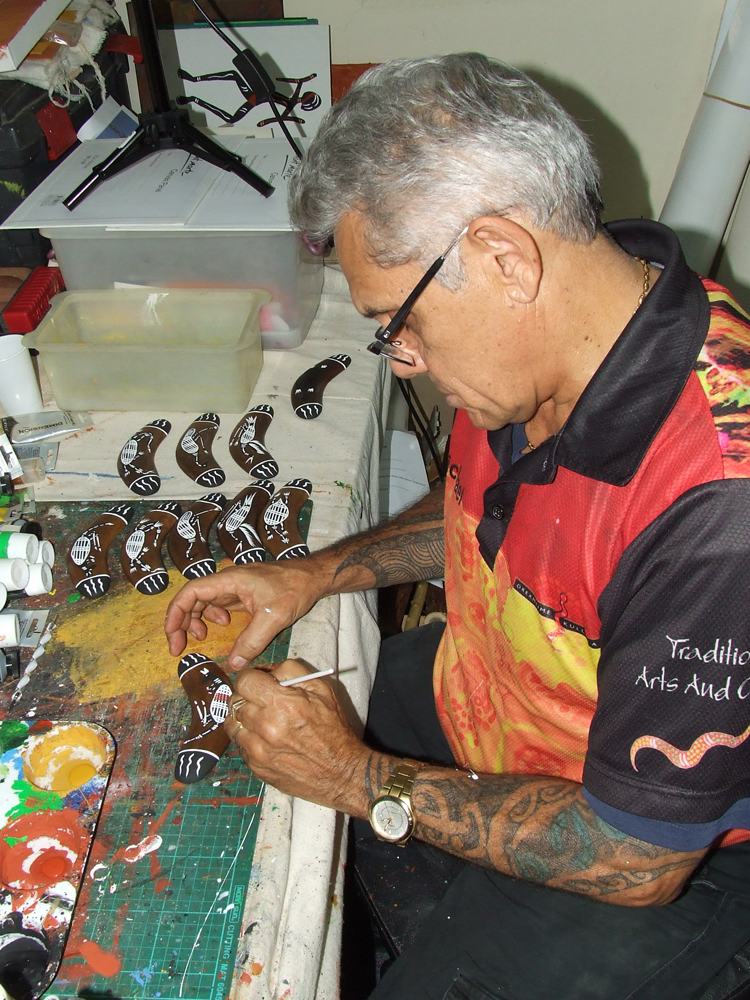 ndigenous Youth Cricket Team, the Australian Indigenous Touch Football Team (Men and Women), Kurbingui Sporting Association, Murriajabree Aboriginal & Torres Strait Islander Association, Redcliffe Area Youth Space and Grace Lutheran College. Many of these are ongoing and repeat engagements attesting to the skilful meeting of client expectations.
Commencing in May 1996 Michael has worked full time as Director/Owner of Dreamtime Kullilla-Art which includes the roles of Aboriginal Artist/Craftsman, Didgeridoo Performer, Indigenous Business Consultant and Cultural Educator and Trainer. Together with his wife, he operates an Aboriginal Art & Craft Retail Shop and Gallery at Redcliffe and only a large Online Shop with ships world-wide.
As a Prescribed Service Supplier with Indigenous Business Australia, Michael specialises in Indigenous business, motivation, leadership, visual and performing arts, cultural education and workshops. As an Indigenous Business Consultant Michael specialises in Indigenous business, motivation, leadership, visual and performing arts, cultural education and workshops and spiritual connectivity. And as an Indigenous Business Skills Mentor Michael specialises in the delivery of small business solutions by providing advice and business expertise to Indigenous customers and guidance through the various Small Business course competencies (AQTF Standards).
Michael has extensive experience working and negotiating with Aboriginal and Torres Strait Islander people and communities and organisations in a culturally appropriate, respectful and responsive manner that is attentive to cultural protocols. He has a sound knowledge of Aboriginal and Torres Strait Islander cultures, including traditional and contemporary perspectives, and an awareness of issues that impact upon communities.
Michael uses the artist name of Munda-gutta Kulliwari which means 'you know me before you see me'.
More information on Dreamtime Kullilla-Art can be found at:
https://www.kullillaart.com.au/