FREE-the-FLAG
---
---
PETITION
Change the licensing agreement around the Aboriginal Flag #PrideNotProfit
FIGHTING FUND
This 'Free The Flag - Fighting Fund' fundraising page has been created in response to a number of supporters looking for an avenue to continue to support the campaigns efforts with financial donations. Click here to Learn more
ABOUT THE CAMPAIGN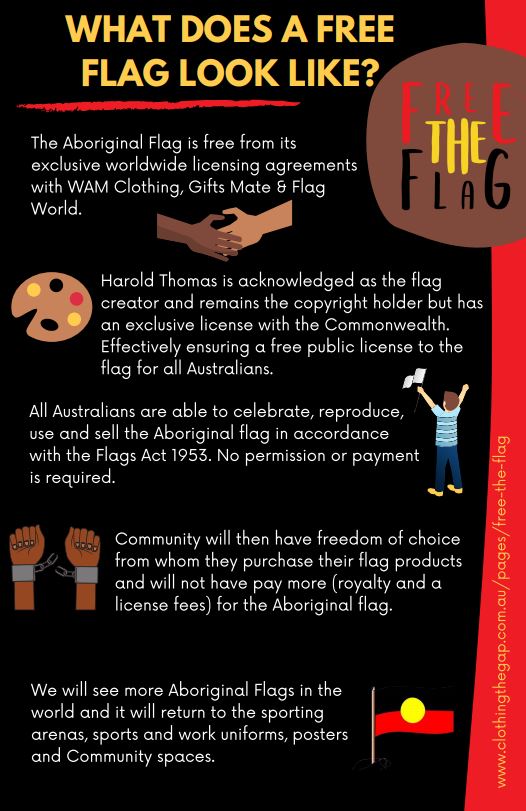 Resolution
It's important to note that Harold Thomas at the time of proclamation said that he "bitterly resented the flag being proclaimed, in his view the proclamation represented a usurpation (taking without right) of something that belonged to the Aboriginal people and the not Australian people generally". However, the Aboriginal flags proclamation in 1995 through the Flags Act has no doubt increased the visibility and value of this flag and Harold still holds the copyright and has been able to earn royalties and licensing fees as a result.
We are advocating for flag equality – for the Aboriginal flag to be equal to the Australian flag.
We want all Australians to have a free public license to the Aboriginal Flag in the same way we do to the Australian flag.
Many Aboriginal people don't like the idea of the Commonwealth 'owning' the flag. So, it is our recommendation that the Government seek out an arrangement where Harold Thomas remains the Copyright holder of the Aboriginal Flag and there is one exclusive licensing agreement with the Commonwealth on behalf of the Australian public. Effectively ensuring a free public license to the flag for all Australians.
Harold Thomas will remain the flag custodian and he will be forever acknowledged as the Flag's creator.
We believe the Flags Act offers all the protection the Aboriginal flag will ever need. The introduction of another administrative body to hold the flag would offer no additional protection and would only add further layers of administration around its usage. If we introduce another body to hold the copyright - the Aboriginal flag would not be equal to the Australian flag.
Let's bring Harold Thomas's vision for the flag to be a symbol of unification to life and to maintain its integrity.
There is no integrity, in the way the flag is currently being managed. This symbol holds too much national significance to be owned, licensed and controlled by one person and left open to exploitation and greed.
Let's remove the shackles and licenses in which the flag is being held to ensure the Aboriginal flag remains just that - an official flag of Australia protected under the Flags Act where the commercial exploitation and control of its copyright does not impact on everyday Australians and the Aboriginal Community.
Before we celebrate the Aboriginal Flag's 50th birthday next year in July, let it be free and to remain as a representation of pride, resistance and a celebration of culture and identity.
Time is of the essence – and now it's your time to Free the Flag for the people.
OUR SUPPORTERS
Show us you support!
Email us at freetheflag@kullillaart.com.au
If you're a company or business, send through an image of your logo for us to diplay on this page.
MERCHANDISE
T-SHIRTS - STICKERS etc
---