Standing up for Cultural Integrity
Author: Michael & Jo Connolly Date Posted:7 March 2017
---


TO WHOM IT MAY CONCERN
Dreamtime Kullilla-Art will no longer be associated with the Aboriginal Flag Products and will no longer be a Supplier of these Aboriginal Flag Products - effective immediately
REASONS
As you would be aware, I/Dreamtime Kullilla-Art have been strong advocators for Aboriginal Culture and hold our cultural integrity in high regard and will never disregard this for anything. We have been fighting the good fight for many years trying to weed out this fake art that is crippling our Aboriginal Art industry and eroding our culture and taking business away from legitimate Aboriginal Artists and their businesses.
Birubi Art (based in Redcliffe in my own back yard) has been importing cultural artifacts by the container loads (didgeridoos, boomerangs, music sticks, bullroarers, emu callers and alike as well as other timber products) from Indonesia having their artists copy artworks on Indonesian made timber and distributing them to all these Souvenir Shops Australia wide. He is using artworks by Trisha Mason who is claiming Kamilaroi heritage but funnily enough she is a fake – she is NOT an Aboriginal Artist – she/Birubi Art refuses to provide evidence of her aboriginality because there is none and because we have uncovered this Birubi Art is now doing all they can to take us down.
If the Bob Katter's Private Members Bill gets passed this will be illegal .. yes, currently this is perfectly legal – ethics play no part. So along with other artists, we have been campaigning actively and for this we (Dreamtime Kullilla-Art) are paying a huge price.
You see, Ben Wooster of Birubi Art also owns the License Agreement for the Aboriginal Flag products paying Harold Thomas lots of royalties for the sale of these flag products each and every month. Now in retribution for standing up against the unethical practices of Birubi Art, they have as of yesterday refused any further sales of these Aboriginal Flag products to us. Immediately I contacted Harold Thomas directly and was absolutely dismayed and disappointed with Harold because he told me in no uncertain terms that he does not want to speak to me again – stop complaining/whinging and go away. He said he has spoken to Ben (Birubi Art) and is quite happy with his business arrangements and supports Ben's decision to cease any/all business with me if he chooses to do so and he has. A kick in the guts by someone I thought was a brother. Very disappointed with his lack of cultural integrity and disloyalty – he is not going to bite the hand that feeds him. To me now the Aboriginal Flag represents nothing but greed and hate it and I want no further part of that and will be removing all/any association with this product ASAP and do not want to put another royalty cent in Harold Thomas' greedy little pocket or Birubi Art ever again.
I am sick of going to "proper" authorities lodging our claims and getting nowhere – sick of all these talk-fests and nothing happens while these thieves get away with their clear deceptive and misleading conduct and hiding behind the Law as it stands. Name and Shame – gloves are off now and you can't be sued for telling the truth.
Further to our dismay, Birubi Art has now received membership to the Aboriginal Art Association of Australia and now trying to get authenticity by hiding behind this membership which is blazoned all over his website and paperwork. His membership was given on the Letters of Support by a Fake Aboriginal Artist – Trisha Mason and Harold Thomas – both of whom are only supporting Birubi Art because he is paying them royalties and both are totally devoid of any cultural integrity. Despite our many complaints this membership stands. I fail to see how a non-indigenous business who is exploiting aboriginal artists and their art can be deemed suitable for this membership. I am very disappointed with AAAA. One artist is happy to sell her artwork and giving permission for it to be copied by Indonesian Artists on imported cultural artifacts and falsely claiming Aboriginal heritage and the other is a greedy prick – great credentials hey.
Dreamtime Kullilla-Art has survived in business for over 21 years which I am very proud of.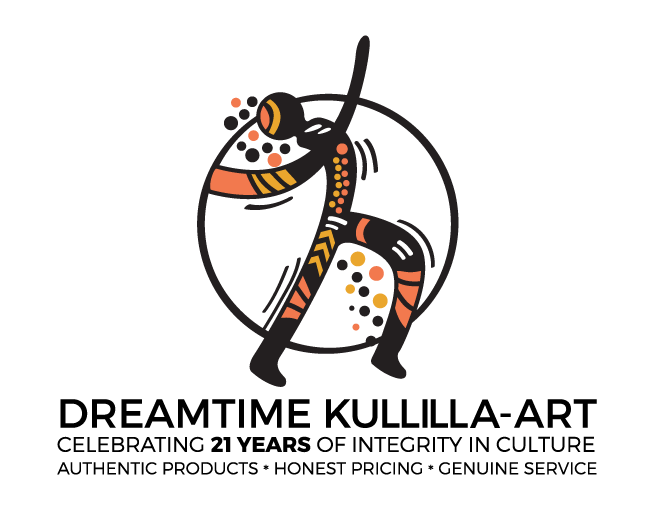 Aboriginal culture is not about a flag (which I hate now) it is about our history, our dance, our songs, languages and our art which all breathes our ancestry – our links to this amazing country of which I am very proud to be descended from and even have DNA to prove it J. Never again will I associate my Aboriginality with this flag – I can do better than that – we can do better than that. Greed was never a part of our culture which unfortunately has now bled into this flag and I now wipe my hands of it. Will design my own flag design!!!
Aboriginal Art not only tells a story but breathes our very essence and it certainly cannot be copied and I will fight to the end to stop this shit. It's OK for businesses like Birubi Art to steal our livelihood but when the shoe is on the other foot they don't like when their business is going to be threatened by this new bill. Ben Wooster told both Jo and myself (which he has since denied saying but we cannot un-hear it) that the Indonesian Artists are better artists of aboriginal art than the Aboriginal Artists themselves and also that they are "exceptional copiers" and very cheap and that's why they go to Indonesia because the ungrateful Aboriginal Artists here won't work for 50c a boomerang. He/Birubi Art fiercely protect their license agreement of the Aboriginal Flag and will send legal letters and jump on anyone who attempts to breach the Copyright /License and when I took him to task about stealing my art and importing copied shit from Indonesia he got very upset and offended and thus the retaliation. It is about money not about culture and I aim to stop him and others who are exploiting my culture – my art and will continue to stand up and be heard. Those who know me know I am like a dog with a bone – I won't go away J
That is my/our reason and I/we apologise for nothing
Michael Connolly (Munda-gutta Kulliwari) & Jo Connolly
Dreamtime Kullilla-Art
www.kullillaart.com.au