Aboriginal Numberplates
---


Designed by Michael J Connolly
Aboriginal Artist

Michael's explanation of his design:-
"The background is symbolic of the Aboriginal Australia Flag.
The circles represent the circle of life - Aboriginal life - that goes on forever.
The lines joining the circles represent the links to this Aboriginal life by all the Aboriginal clans Australia wide - we are all linked together.
The feet represent the Aboriginal People who have walked this land for over 100,000 years and will continue to walk this land - proud of who they are and where they have come from"
- Aboriginal Australia - always was and always will be!!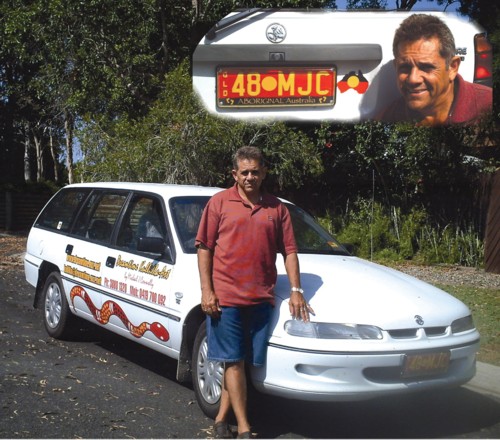 WE'RE BLACK, PROUD AND JUST TOO DAMMED DEADLY!!

Note: Dreamtime Kullilla-Art only receives a small percentage from the sale of each QLD plate and from this small percentage [less than 10%] we have to pay for the advertising and promotion of the plates himself - no Government support in Qld - we have to pay for all costs associated with the production of the plates such as "Artwork fees" the registration and application fees associated with trademarking the design and legal costs associated therewith plus has to administer the sales and orders of each plate which has associated fees such as bank fees and accountancy fees - there is not much left over. This was never about being a "money making" venture this is about a simple principle - Aboriginal Australia. Any support you can offer to help promote these plates would be greatly appreciated
Queensland